Introduction:
"Automation of email flows and determining which email flows should be automated, which can be accomplished by utilizing audience breakdowns."

Why Audience Breakdown (and why use Custimy segments)?
Performing audience breakdown in Klaviyo with segments of high specific quality, such as propensity to buy metrics and customer value, would have several benefits. These include:
Targeted Marketing: By segmenting your audience based on their propensity to buy and customer value, you can create more targeted marketing campaigns that are more likely to convert.



Increased ROI: By targeting high-value customers and those with a high likelihood of converting, you can increase the return on investment for your marketing campaigns.



Improved Customer Experience: By understanding the specific needs and preferences of your different segments, you can create a more personalized customer experience, which can lead to increased customer satisfaction and loyalty.



Better Analytical Insight: By breaking down your audience into specific segments, you can gain better analytical insight into the performance of your marketing campaigns, which can help you make more data-driven decisions.



Better Allocation of resources: By understanding the different segments of your audience, you can better allocate your resources to the most profitable segments.

What is the Propensity to Buy filter?
Custimy's Propensity to Buy filter is a machine learning filter based on the customers likeliness to make a purchase now or in the near future.
Please refer to the guide below for more detailed instructions

1. Click on Activation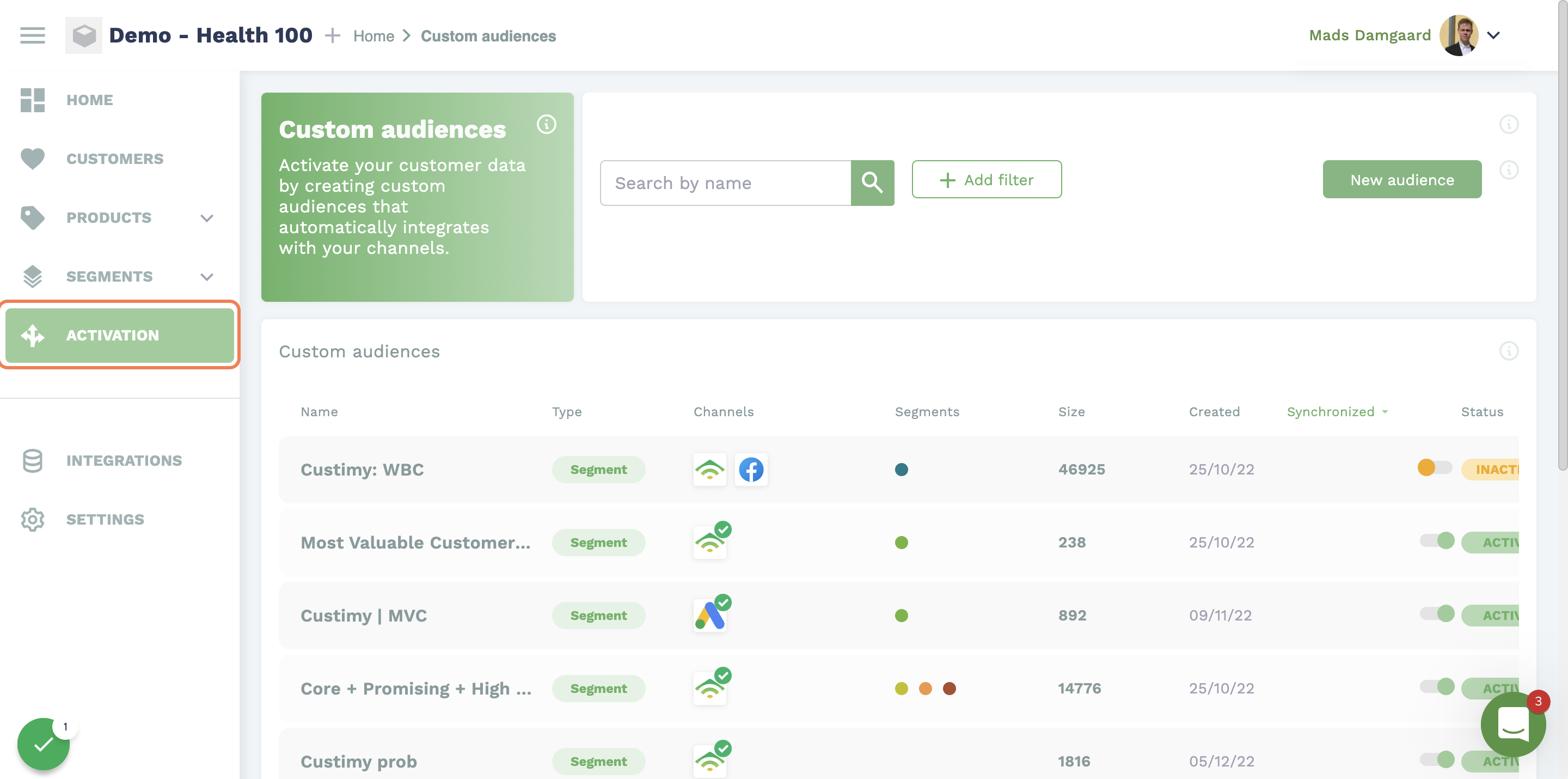 2. Create New audience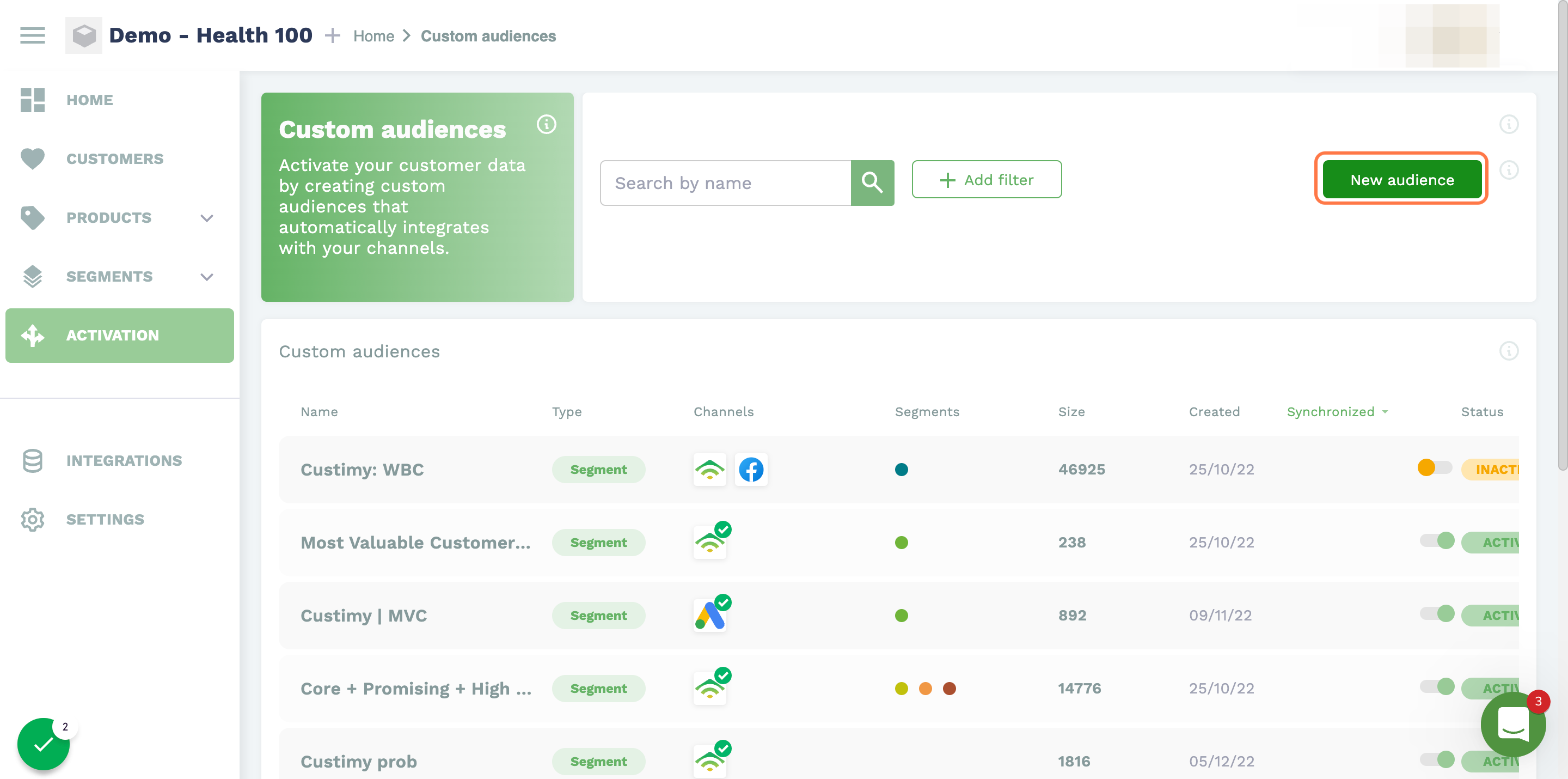 3. Click on Add filter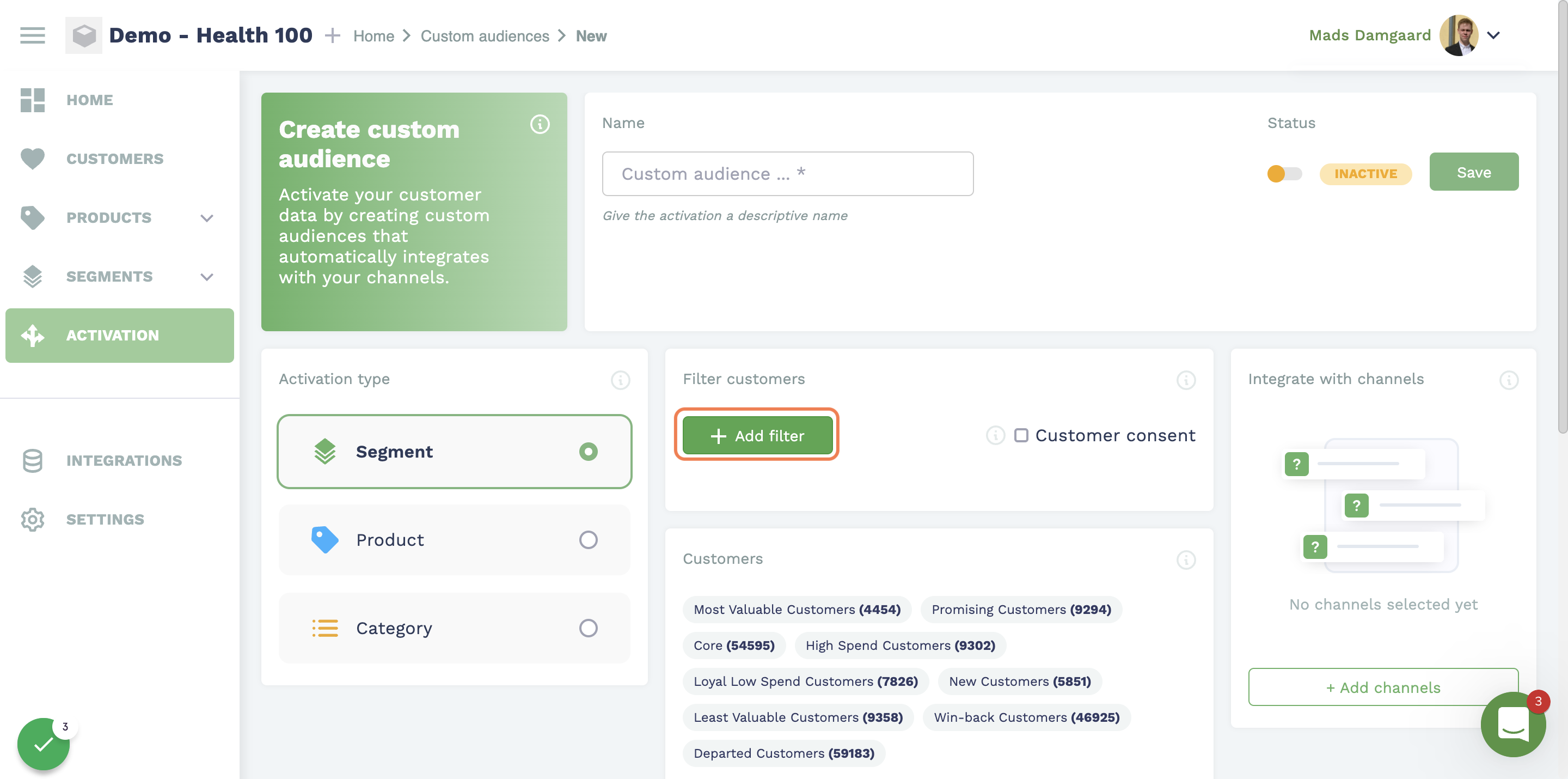 4. Search for "Propensity to buy"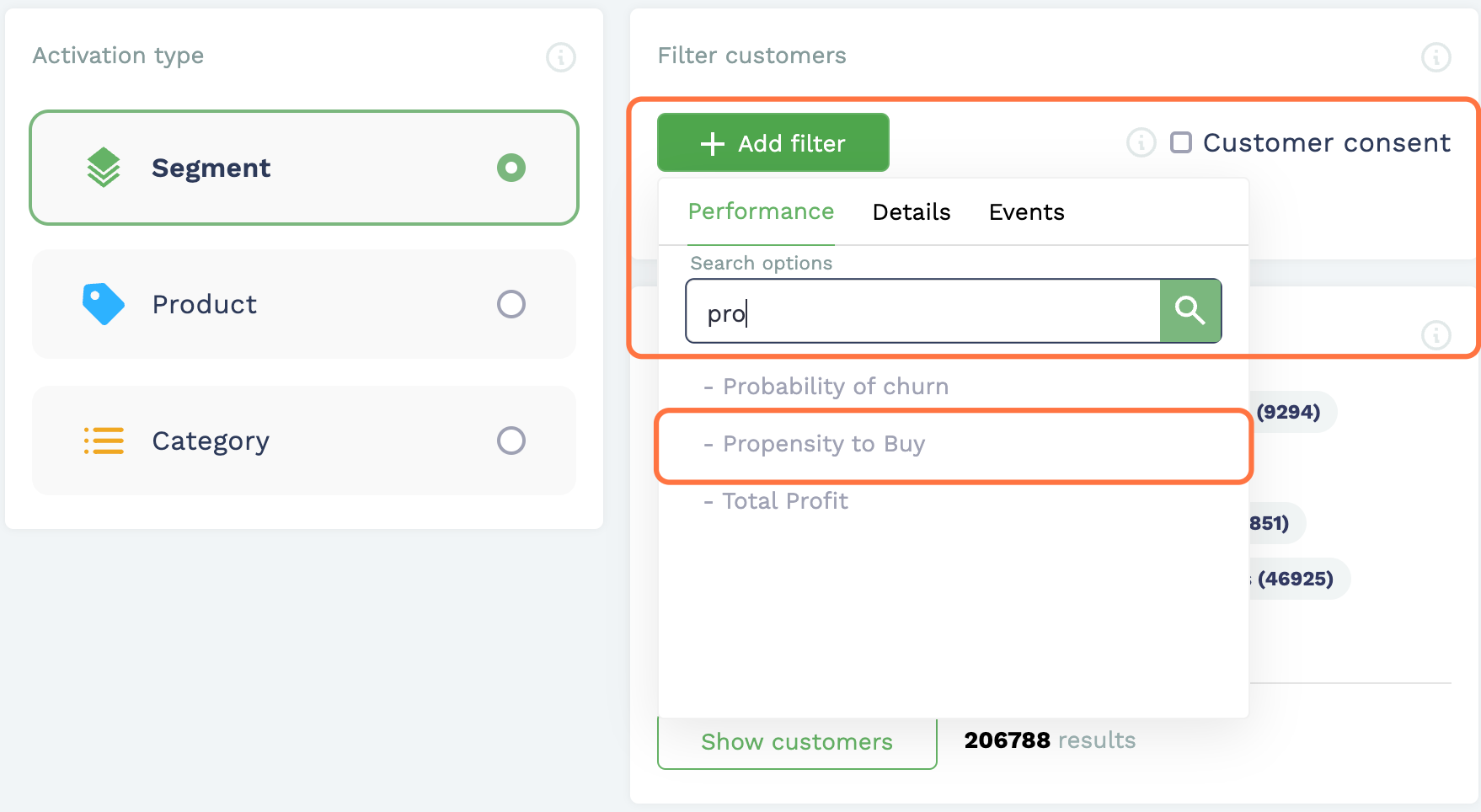 5. Selecting a value
Selecting a value for the Propensity to Buy filter varies from business to business.
General 'Best practise' is to complete this process at least 3 different times, with minimum 3 different values.
e.g. making 3 different audiences with the following Propensity to Buy values; 50,70 and 90%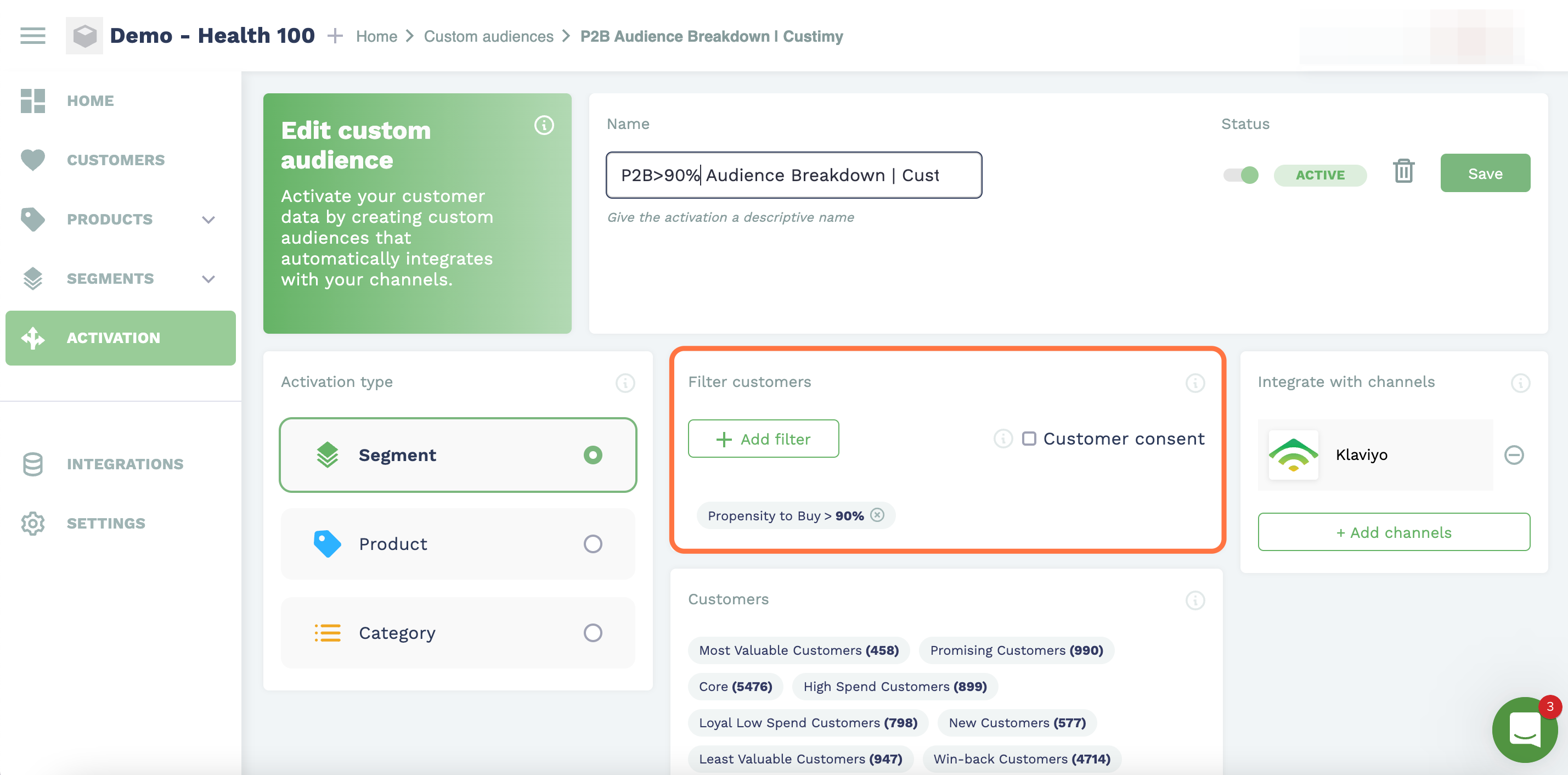 6. Add Klaviyo as your channel
Select Klaviyo as your channel of choice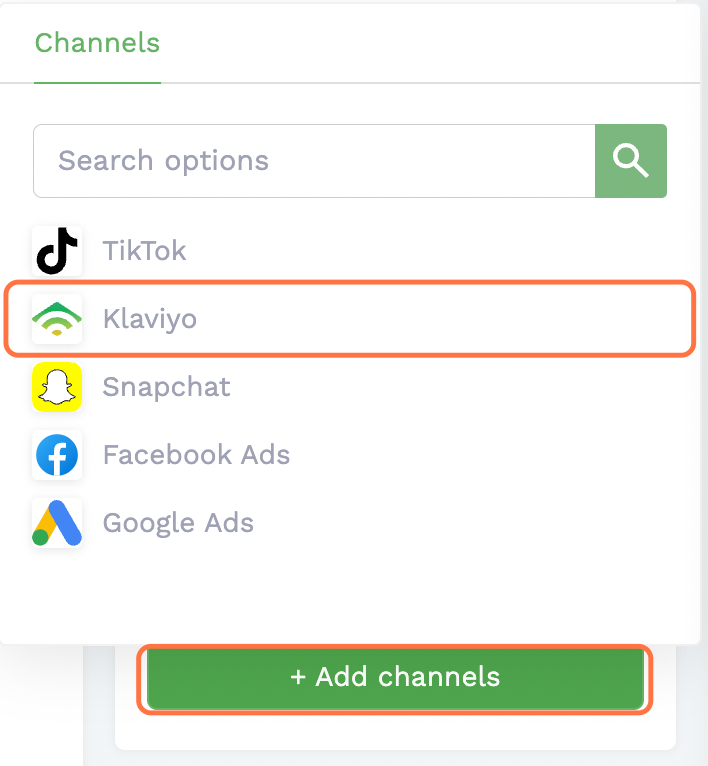 7. Name your Audience, Activate and hit Save!
Important!
It is recommended to repeat the steps associated with the Propensity to Buy machine learning metric using at least three distinct propensities in order to fully realize the benefits for your business. Having a variety of propensities will provide valuable insights into which value is most effective for your specific needs.
It is important to note that in order to achieve this, you must have at least three separate audiences with varying propensity values. It is not possible to apply multiple propensity filters to a single audience, as only the audience with the highest propensity value will be utilized.

Note: Name your audience something you will be able recognize in Klaviyo.
e.g. "P2B>90% Audience Breakdown | Custimy "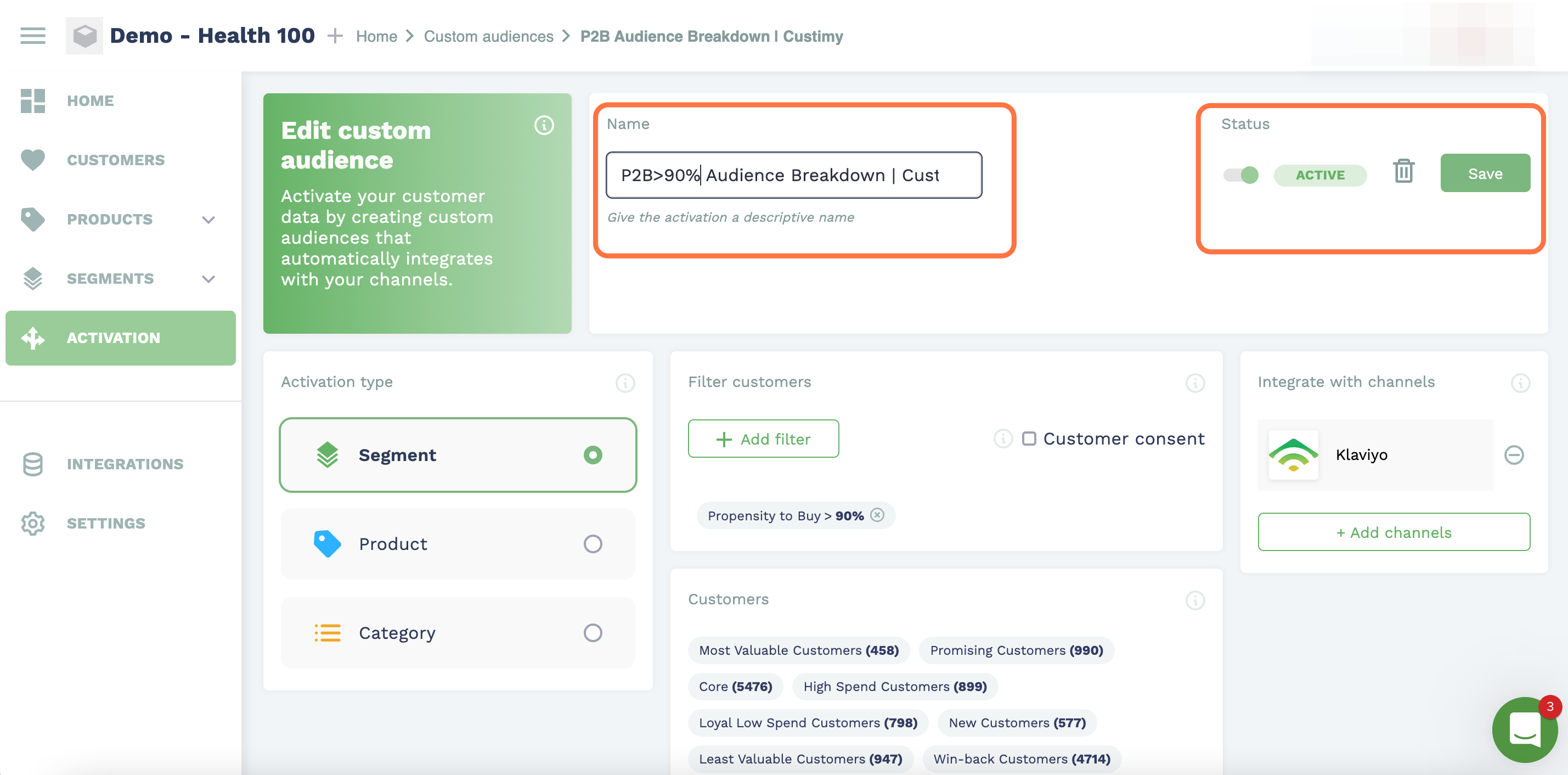 8. Congratulations! Your audience will now be sent to your preferred channel.
Allow a few minutes for the audience to arrive*
9. Click Create Campaign
Go to Klaviyo and click 'Create Campaign'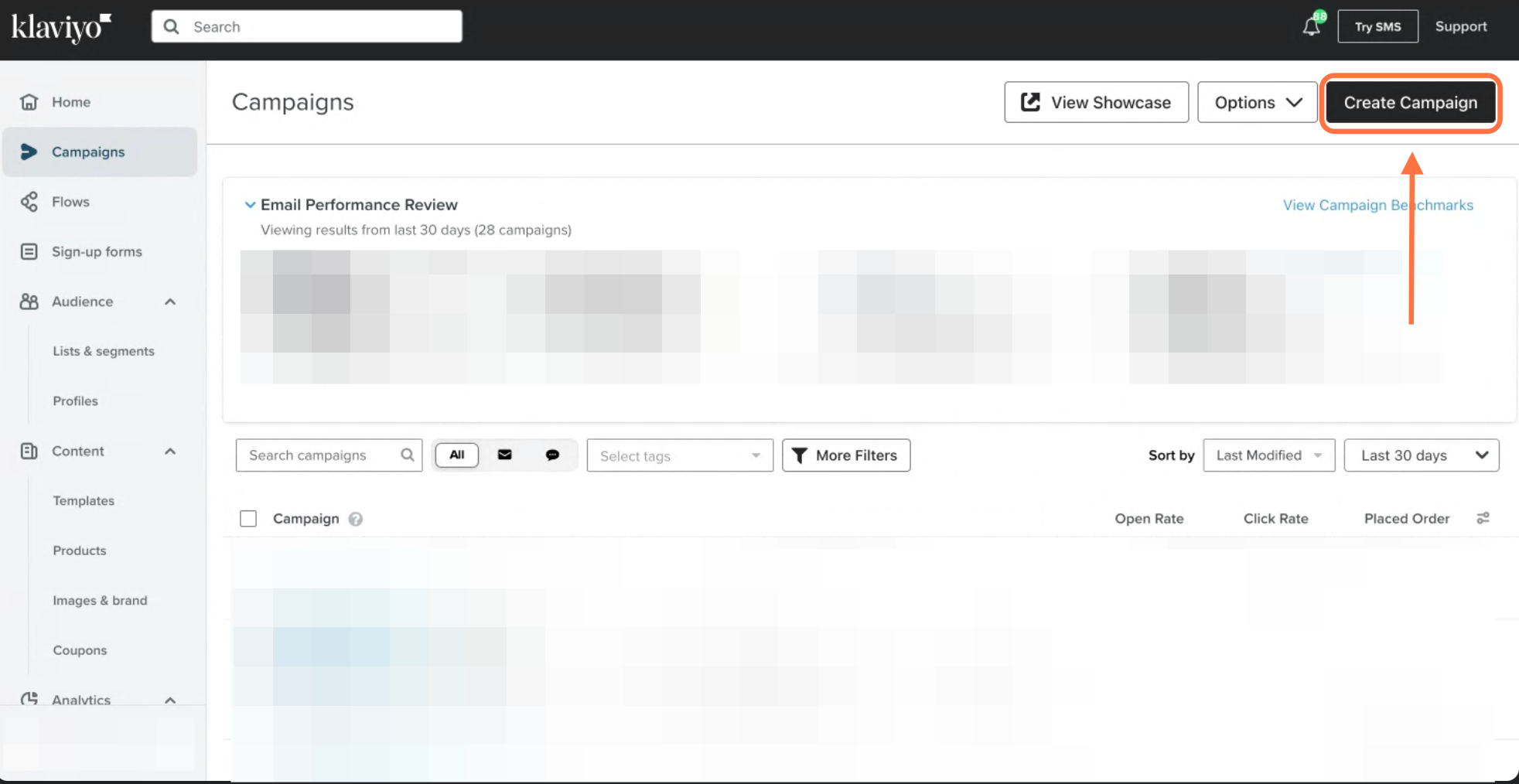 10. Choose Email
Choose Email and click Create Campaign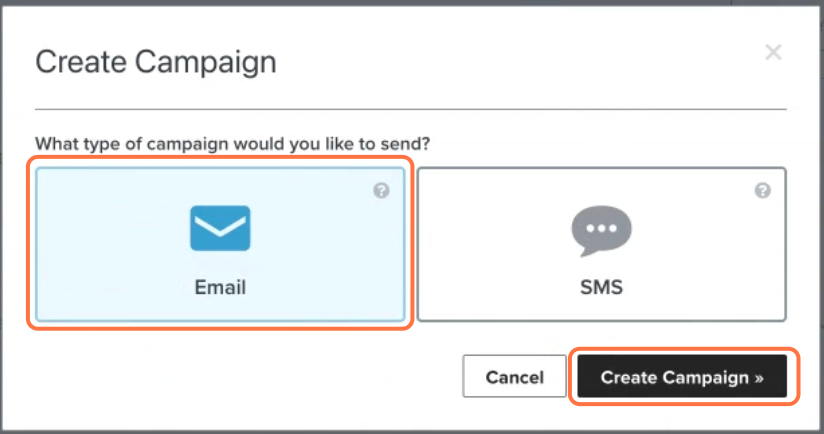 11. Choose all of your Custimy segments
Under Recipients choose ALL of your Custimy segments, e.g.
[ x ] "Custimy | Propensity to Buy > 70%"
[ x ] "Custimy | Propensity to Buy > 60%"
[ x ] "Custimy | Propensity to Buy > 50%"
[ x ] "Custimy | Most Valuable Customers"
and so on...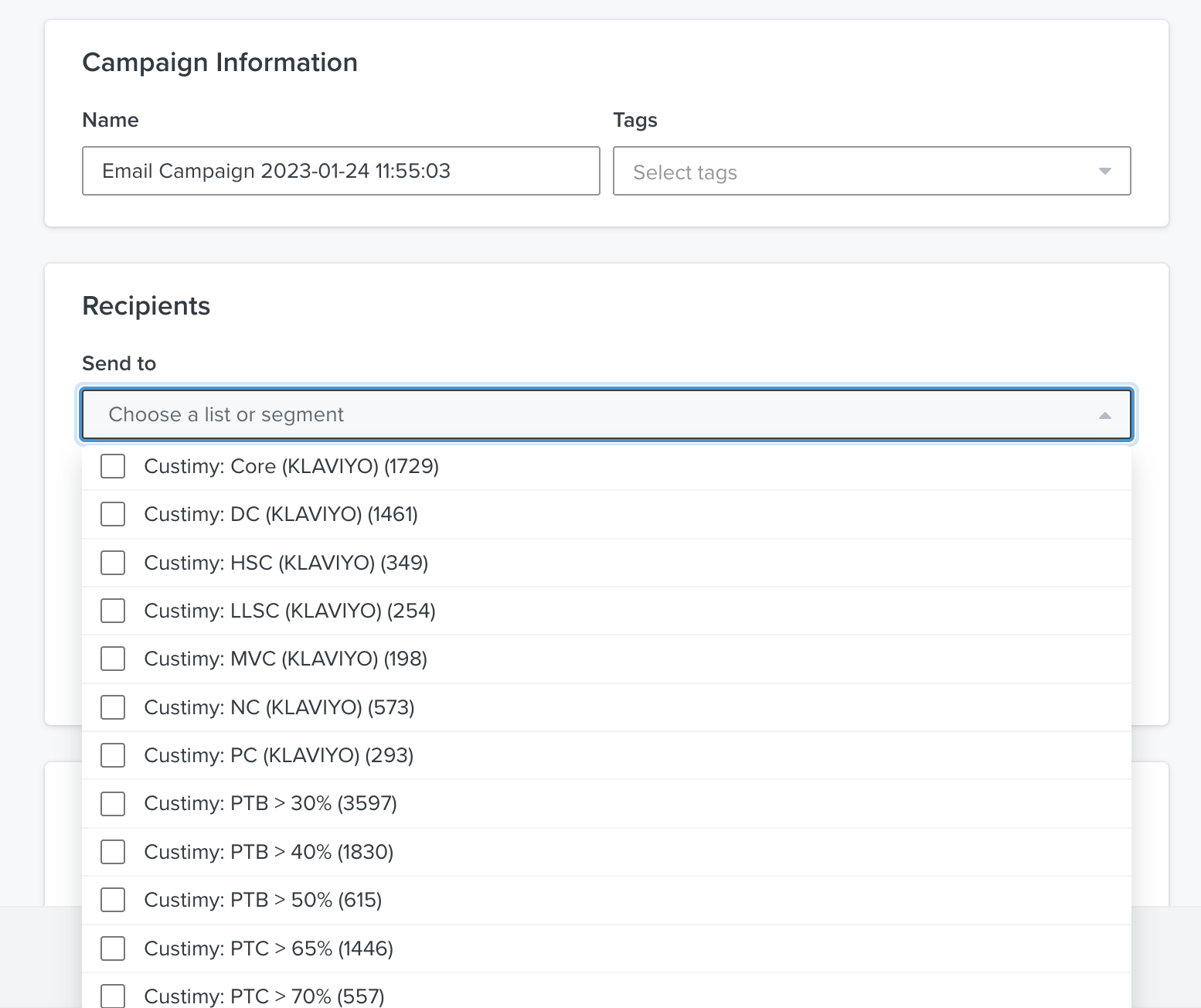 12. Fill out your email campaign as usual
Now you've created the campaign email and added the audiences as observations. When the email has gathered data, you'll be able to see the performance of each segment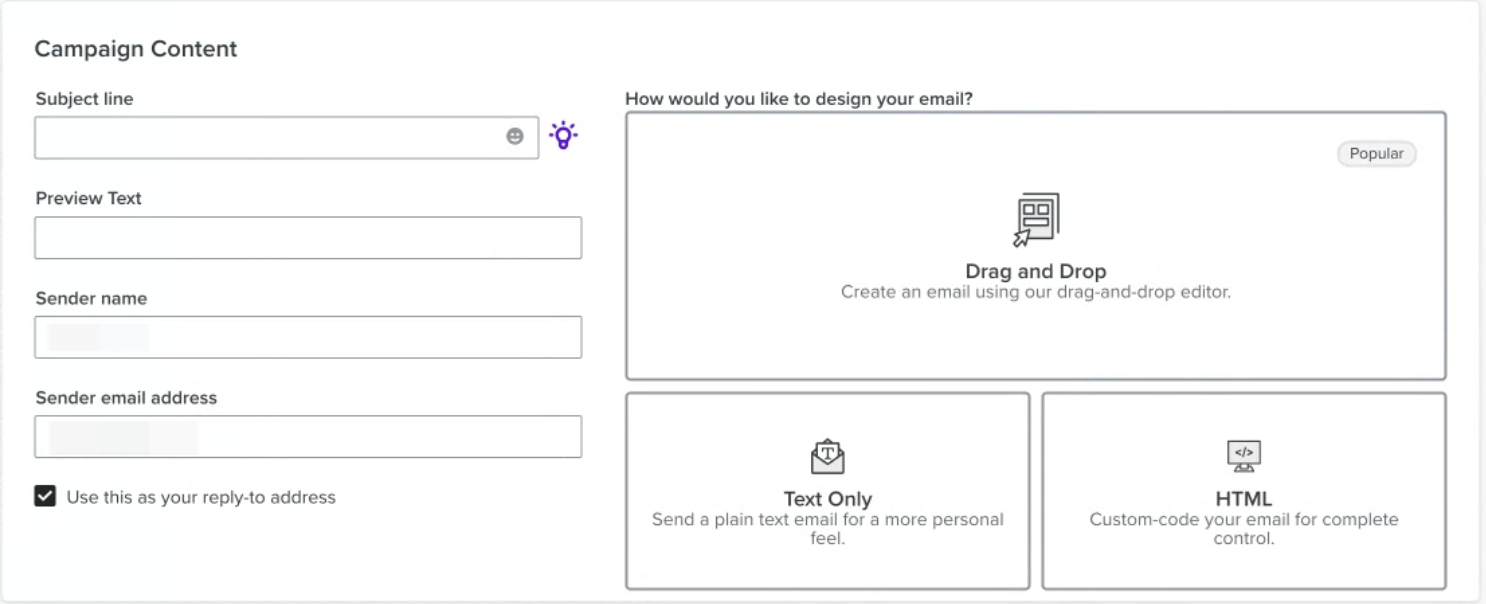 13. Click Audience Breakdown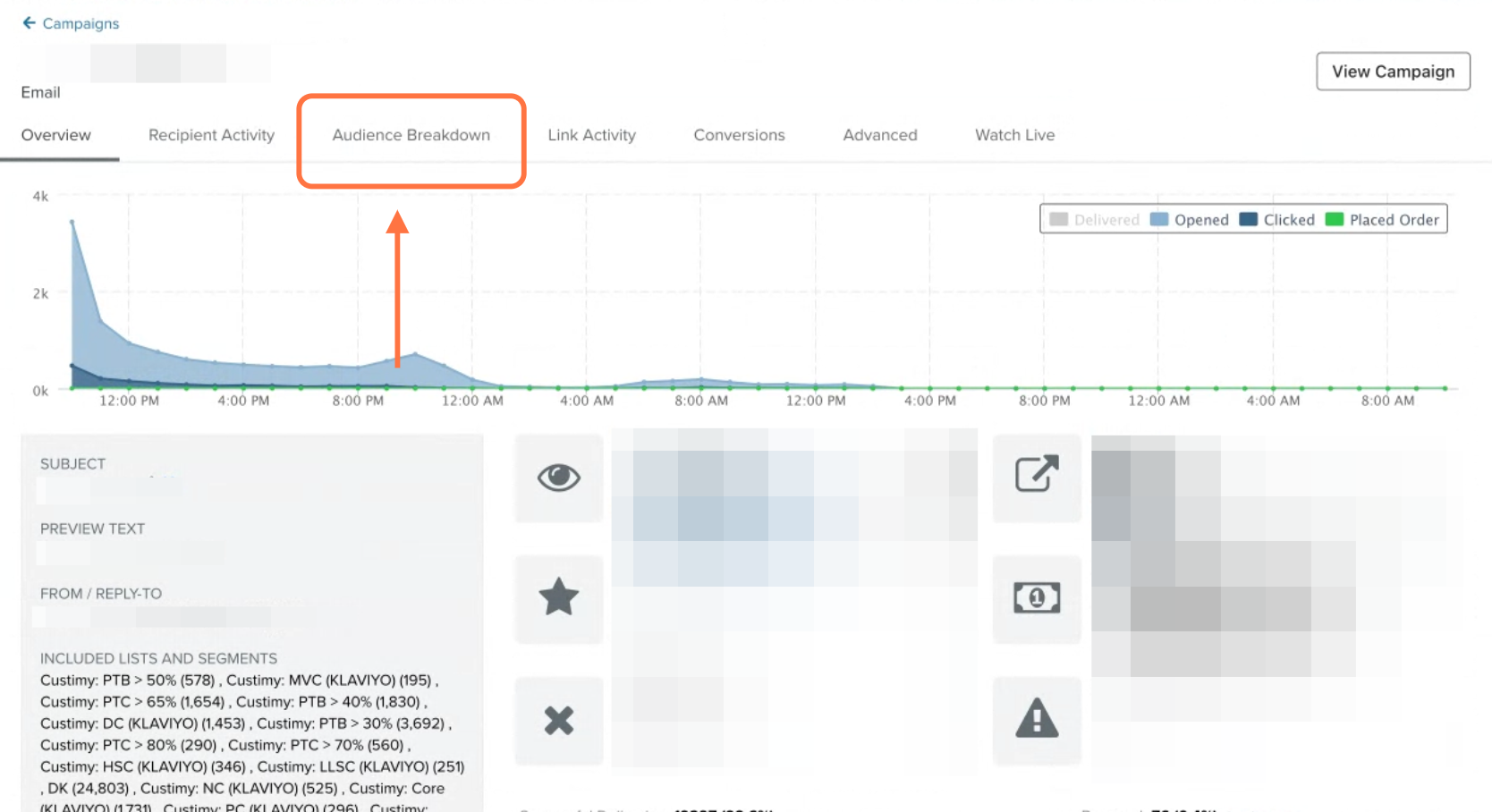 14. Analyse your Audience Breakdown
You will now be able to see the performance of Custimy segments compared to other segments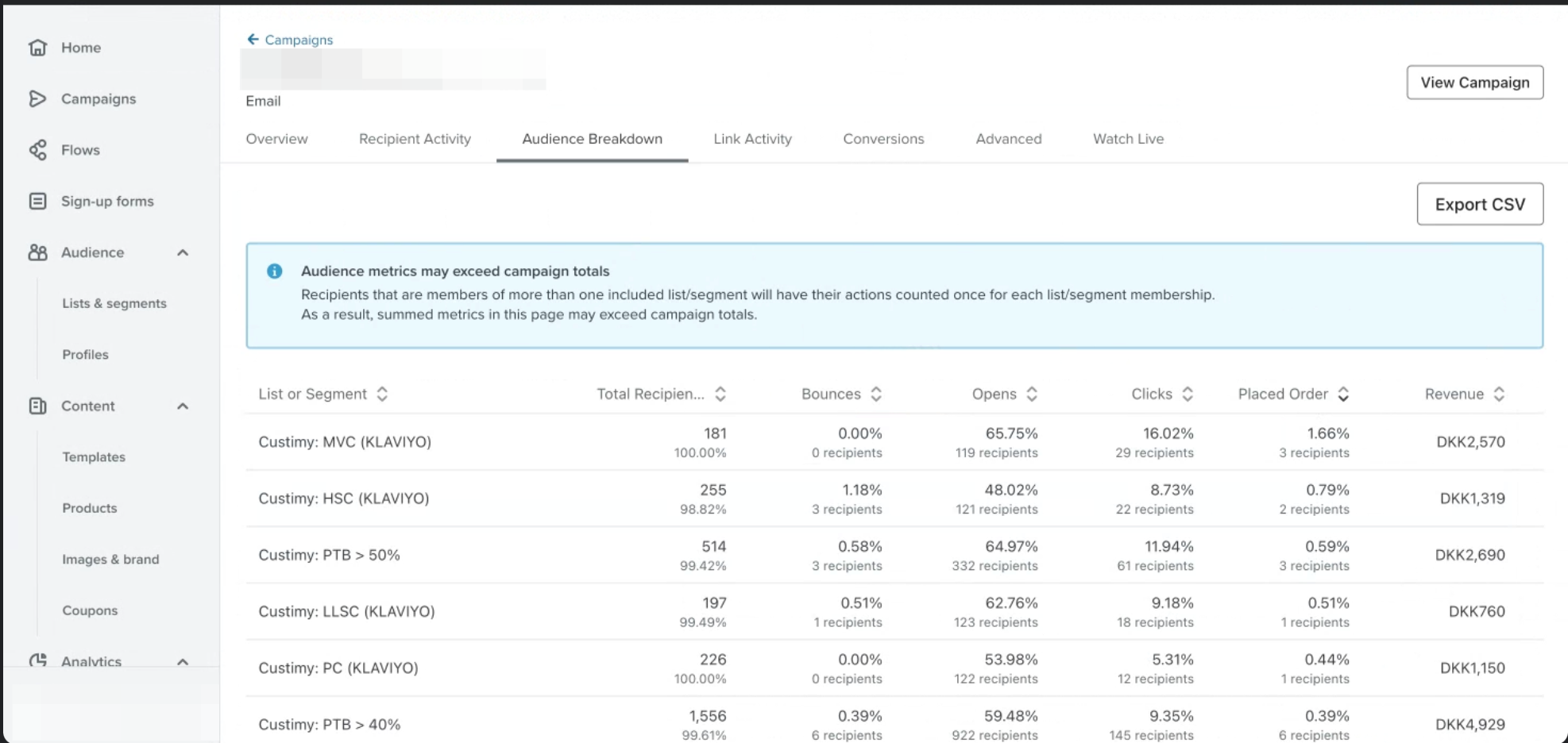 15. Congratulations!
You will now be able view how different segments performs compared to each other.

Hopefully, this will provide you with valuable insight into the decision of whether to automate email flows.
🙇🏽‍♂️Know how we could improve? We would love some feedback!